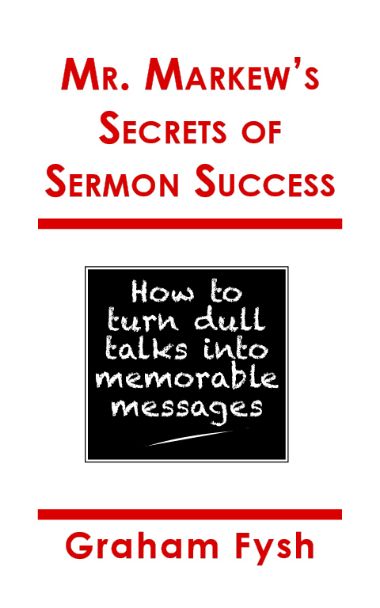 HOW TO TURN DULL TALKS INTO MEMORABLE MESSAGES
Successful media professionals use tested techniques to attract and retain audience attention. This book tells how those techniques can be applied to preaching with dramatic effect.
It tells the story of a pastor who receives a visit from Mr. Markew, a media expert who claims he can teach the pastor how to revitalize his preaching. Basing his lessons on a lifelong study of the media, Mr. Markew guides the pastor through a series of powerful new methods on how to construct a sermon theme, develop it, and ensure it will be remembered.
Not only do these proven techniques show how dull talks can be turned into sparkling sermons, but their time-saving format also eliminates message-block and cuts sermon preparation time in half. The book can be read in a short time, but the practical tips it reveals will prove rewarding for many years. It deserves a place on every pastor's bookshelf.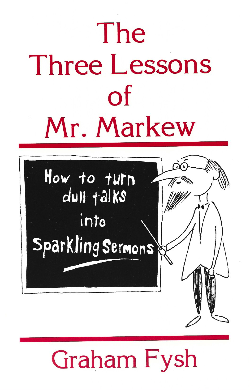 The original best seller is on close-out!
A limited number of copies of the original

The Three Lessons of Mr. Markew

are available at the special price of $3.95 —while supplies last

Prepare your sermons using Mr. Markew's secret formula
Our sermon template helps you to prepare your sermon along the lines of those presented by Mr. Markew in the book, Mr Markew's Secrets of Sermon Success. Follow the preparation order and in 10 easy steps you will have the sermon fully prepared and ready for delivery. It could not be easier. It will not only save you time, but make your sermon more effective, too.

Obtain your own copies of the Markew Sermon Preparer
Download a master copy of the Markew sermon preparer for only $5.00. Print as many as you like when you need them. Your sermon preparer will be available for you to download after you have made payment.

Topics on which to build a sermon using Mr. Markew's formula
Using the Markew formula, build a sermon around one of these themes. Feel free to adjust the theme to suit your listeners. Advertising the theme on your church website or on your church's billboard will attract people who want to hear what you—and the Bible—have to say on the topic. The theme will engage your listeners and help them remember the sermon when you deliver the message that goes with it. If you are not familiar with the Markew formula,
obtain the book that describes it
.

We will keep adding new themes.

Fail this test and you could fail heaven. (

Matthew 6:14-15

)
Take these three steps to achieve a more fulfilled life. (

Romans 12:12

)

When to speed up and when to slow down in life. (

James 1:19-20

)

Three ways to gain God's attention. (Isaiah 58:1-9)

Determine today to get rid of these bad habits (Colossians 3: 5-9)

Live like this and your life will be transformed (Colossians 12-17)

How you can improve yourself with a whole new identity. (Romans 12:1-2; 8:5-6)

You won't believe what the Bible can teach you. (2 Timothy 3:1-17)

How to handle those who argue with you. (2 Timothy 2:23-27)