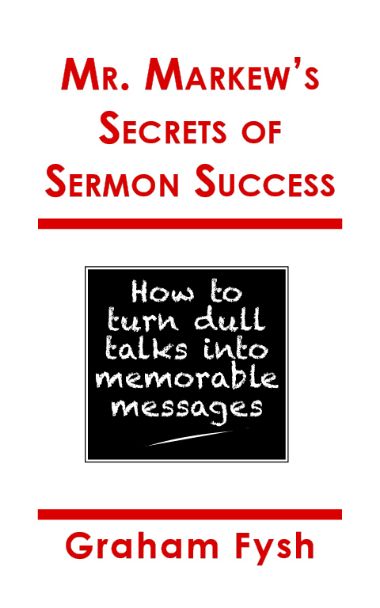 HOW TO TURN DULL TALKS INTO MEMORABLE MESSAGES
Successful media professionals use tested techniques to attract and retain audience attention. This book tells how those techniques can be applied to preaching with dramatic effect.
It tells the story of a pastor who receives a visit from Mr. Markew, a media expert who claims he can teach the pastor how to revitalize his preaching. Basing his lessons on a lifelong study of the media, Mr. Markew guides the pastor through a series of powerful new methods on how to construct a sermon theme, develop it, and ensure it will be remembered.
Not only do these proven techniques show how dull talks can be turned into sparkling sermons, but their time-saving format also eliminates message-block and cuts sermon preparation time in half. The book can be read in a short time, but the practical tips it reveals will prove rewarding for many years. It deserves a place on every pastor's bookshelf.


---
Prepare your sermons using Mr. Markew's secret formula

Our sermon template helps you to prepare your sermon along the lines of those presented by Mr. Markew in the book, Mr Markew's Secrets of Sermon Success. Follow the preparation order and in 10 easy steps you will have the sermon fully prepared and ready for delivery. It could not be easier. It will not only save you time, but make your sermon more effective, too.